reporter Wei Kai Luo Yuanyin Huang Yaxi started to guangzhou is investigated through a taxi software soliciting private cars, which means that the city of SEC for car illegal operations from previous verbal warnings to officially start work. City SEC last night (April 30), said the recent have seized more than the use of mobile phone software USES illegal business case, rate was fined 30000 yuan. In addition, the uber guangzhou company today is department of industrial and commercial and transportation, and other law enforcement is investigated, the seizure of a batch of for USES his cell phone.
yesterday have a net friend in the net source platform to upload a lot of photos, said the city industry and commerce and the city SEC headquarters for law enforcement, law enforcement personnel to uber guangzhou reason is uber suspected of illegal business organization black car, the scene of many sets of Iphone.
he uploaded pictures, the uber guangzhou company, in business and the uniform of the SEC staff at the scene to collect documents and mobile phones.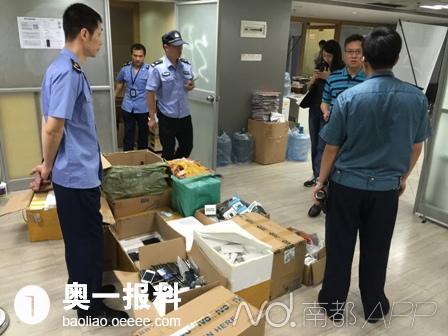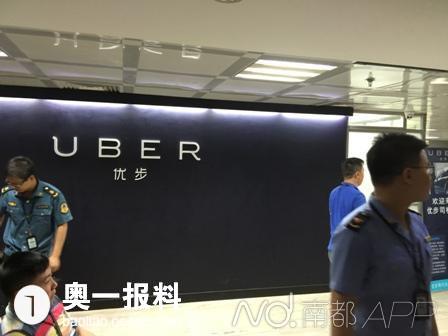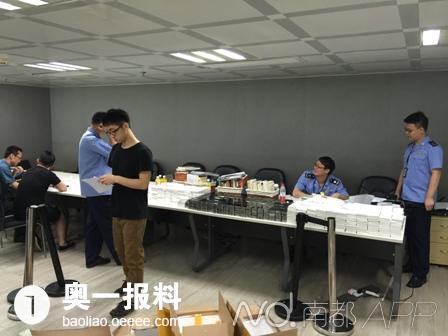 after this group of photos uploaded caused Internet users a large number of comments, some netizens said uber limousine service make guangzhou residents travel more convenient, while the existing guangzhou taxi taxi difficult problems, don't want uber guangzhou normal business affected.
SMW reporter after contact with the source, but the other party didn't answer the phone, and internal staff identified according to the municipal industrial and commercial departments, in the picture wearing the uniform of the industrial and commercial staff is industrial and commercial system of law enforcement officers.
city SEC: combat illegal operation is standing
in SEC when reply SMW reporter to ask last night, said recently, in order to ensure the clean and tidy of guangzhou market conduct safe and orderly, the combination of the various law enforcement agencies in the city unlicensed illegal business behavior to carry out the special combat, including joint of transportation industry is operating without a licence, illegal case to investigate. Today, the city industry and commerce, public security, transportation departments such as joint law enforcement, to a suspected did not deal with industrial and commercial registration formalities, the organization does not have private vehicles engaged in business activities of enterprises operating qualification of the law enforcement inspection, the related management tools, a collection of objects such as mobile terminal for processing. Relevant investigation is in progress.
SEC said, the country's ministry of transport has been clear for many times, all kinds of "special" software company shall follow the rules of transportation market, ban on private cars access platform to participate in the business. Every use of private cars and other social vehicles for "private car rental service, are suspected of illegal operations, the municipal traffic department will be punished in accordance with the law. Transportation law enforcement only to distinguish the legal operation and illegal operations, to disrupt the illegal operations, transportation market of guangzhou traffic law enforcement has a high voltage regulation, merciless.
Whether the SEC said
city, constitutes illegal operations, depends on the enforcement of the law of evidence, rather than relying on its performance. Guangzhou city two levels of traffic law enforcement in recent day-to-day enforcement have seized more than the use of mobile phone software USES illegal business case, rate was the traffic law enforcement in accordance with the 30000 yuan fine. For individual network operating units stated in all kinds of management behavior suspected of violating the country, relevant law enforcement departments will also be in accordance with their respective responsibilities strictly enforce the law shall be investigated.
city SEC admits the taxi service level varies
in SEC, said the municipal traffic department noticed that traditional single taxi service form, service level varies, cannot meet the demand of citizen diversification and differentiation of travel, to better solve the contradiction in the travel, guangzhou also launched in research using the Internet platform innovation about car rental service, is actively negotiate with all social Internet platform enterprise, make good use of new technology, provide citizens with normative legal quality travel services.
hope each engaged, involved in the transport unit and individual shall comply with the national legal laws and regulations to carry out the production and business operation. Actively safeguard legitimate, the normal order of transportation, also hope to public understanding and support.
Uber: industrial and commercial department routine check, platform service unaffected
Uber related people in guangzhou, said yesterday the ministry of commerce and industry to visit Uber company as a routine check. Optimal step are closely communicate with each department, the optimal step has been to keep good communication with all departments, and actively cooperate with platform service is not affected by any.
car driver: recent temporarily not on-line order
there are part-time limousine driver who spoke on condition of anonymity, said yesterday the uber system still can normal use, but in the afternoon, the ministry of commerce and industry to the uber guangzhou office to check the message had been reported in the driver WeChat group, many drivers are not online today, peak online car less, leading to a busy road premium rate is higher. Three private cars online part-time car driver, said the recent will temporarily not online, wait for a period of time, such as the official attitude clear before deciding whether to continue to drive car.
The
to learn more knowledge, entrepreneurial innovation quickly add hunting cloud network micro letter public accounts: